Simonne Bisaha began working as a delegating nurse for the assisted living program at Pickersgill in December of 2017. Over the course of her first year working here, she noticed something about the community that hadn't always been the case in her career.
"At Pickersgill, there are a lot of people who have worked here for a long time, so there's a family atmosphere and a special feeling of cohesiveness," she said. "It starts from the Executive Director [Barry Eisenberg] on down: The people are warm and accepting and helpful, which gives us all a great sense of security in being here and with what we do every day."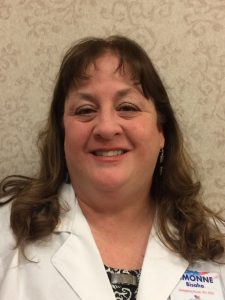 A special role
So, what does a delegating nurse do? To earn this role, one must first become a registered nurse. Then, one must complete a specialized course and earn certification as a delegating nurse. Simonne explained that all assisted living communities in Maryland are legally mandated to have a delegating nurse on staff, and the role is a special one.
"I work alongside Marie Campbell [Pickersgill's Resident Care Director and also a certified delegating nurse] and we oversee each assisted living resident's plan of care," Simonne explained. "We provide direction and oversight for the medical technicians who administer medications to the assisted living residents here. We're kind of the state-mandated 'gatekeepers' inside the facility between the assisted living residents and their medications."
Basically, Simonne helps guarantee that residents who receive help with their medications always receive exactly what they need, exactly when they need it.
A philosophy focused on independence
"My philosophy toward assisted living coincides with our philosophy at Pickersgill: to help maintain the dignity of our residents and promote their independence," Simonne shared. "We provide the assistance and services for them to stay in their home as long as possible."
For example, Simonne mentioned the ancillary services that Pickersgill offers to its assisted living residents, such as morning assistance and personal home care, which help maximize everyone's ability to age in place. At Pickersgill, that means the community fosters a smooth progression from independent living to assisted living to skilled nursing, if needed.
Furthermore, ingrained in Pickersgill's assisted living services and methods is one of the key elements to anyone's overall wellness: social interaction.
"There are so many events and activities going on here," Simonne said. "Having all of that social interaction enables our residents to stay engaged with others and it really improves their quality of life."
Simonne also shared how the interaction and feeling of cohesiveness among the staff is crucial, because Pickersgill believes that when the staff is cared for, the residents will always receive the best care.
"The staff here, we all interact with each other and have this sense of community. It's really a family-type atmosphere and everyone looks out for each other. There's even a dedicated social worker on our staff who looks out for everyone."
"Everyone works together," Simonne said. "And everyone benefits."
If you're interested in learning more about why our staff enjoys working here or our independence-focused approach to assisted living, we invite you to come meet us! Simply click here, or call us at 410-825-7423 to get in touch.