We recently talked with Linda Sarubin, whose mother, Molly Golden, moved to Pickersgill more than six years ago. We wanted to get an adult child's perspective on the impact of a senior living community on her mother. This is what Linda said:
Leaving her house was a hard decision. Mom had been living with a companion in Baltimore in a huge house. Parking was an issue. Safety was a concern. I worried all the time. When her companion passed away about 7 years ago, my sister and I started thinking about what would be best for mom. We thought it was a good time to consider a senior living community. I'm in Pennsylvania, and my sister is in New York, so neither of us are right down the street.
We toured every senior living community in Baltimore and one place in southern PA. It was a very daunting search, and Mom went kicking and screaming. She didn't want to move, didn't want to give up her house, and didn't want to downsize. She was not in favor of this idea.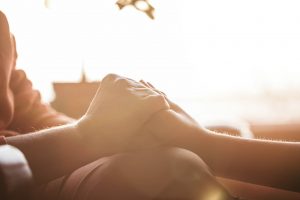 And then we went to Pickersgill. When we walked in, it felt like home. I cannot say enough good things about the staff. Everything about it was homelike. Then, she became excited about the process of moving. She picked out paint colors and she figured out which of her antiques she wanted to bring with her. Because of that, it was an easier process.
Immediately upon moving in, and even before, people knew Mom's name. Moving to Pickersgill took a bad situation and turned it totally into a positive. She went from being depressed after the passing of her companion, then feeling isolated, alone in her house and unwilling to leave, for the very real fear of not being able to find parking when she came back home, to all of a sudden being surrounded by people who were smiling, giving, welcoming and hugging.
The first two days I came down with her to help her unpack, but there was hardly anything for me to do. So many staff members helped – from hanging dozens of antique photos on the walls to arranging furniture to plugging in the lamps. Then they introduced her to a few of her neighbors to make sure she knew the people she lived closest to. Mom is very gregarious, but I was worried because she wouldn't know anyone. So I came down to have dinner with her the first few evenings, but she didn't need me! She was a-okay! Moving to Pickersgill meant finding a new home.
Two years ago, Mom suddenly lost her mobility and became wheelchair bound. It was a scary and sad transition from an apartment to her assisted living residence. But she was able to bring some of her antiques, which helped her feel at home. I was worried about some of the social opportunities in a higher level of care, but somehow it's even more social. When I pop in, she's always sitting out and talking with someone or working on a puzzle or playing Scrabble. Last night, she almost kicked me out because they were playing a Cary Grant movie and she had somewhere to go!
When she walks through the halls, all of the staff members know everyone's name. It's small enough that it does feel like family. I am relieved like crazy. 
I talk to my mom every night. When she lived in Baltimore, if I couldn't reach her, I'd drive an hour and a half down to make sure she was okay. Now, if I can't reach her, I call the main line, and most of the time, they know exactly where she is – usually talking with friends after attending a music event or movie screening. What's even better is that they know me and they know my mom. If they haven't seen her, they check on her and I receive a call back within five minutes. I can't say enough good things.
Mom is in the best possible place she can be. She works on art projects. She participates and helps welcome new residents. She never misses a musical event and really enjoys going to the restaurant-like dining room. Instead of staying home like so many elderly people do, withering on the vine, she has really bloomed.
I tell my friends with parents my mom's age, "Don't hesitate!" Don't wait until your parents are so old that you can't enjoy it. Let this be a time for them that is full of safety, luxury, new friends and new experiences. Don't wait until they need around-the-clock medical help. Become part of this family while your parents are still young and healthy enough to enjoy it.
Pickersgill has been a godsend for us.
For more information on assisted living services at Pickersgill, call us at 410-825-7423 or click here.