When you've decided to move out of your house, the senior living options that abound can be overwhelming. Sometimes it seems like deciding which community you like best is a tougher choice than choosing to move in the first place! When it comes down to it, the best place for you to spend your retirement years will be the place that fits your wants and needs. What's best for you isn't necessarily best for everyone else, so consider these factors when you're looking at senior living options in your area.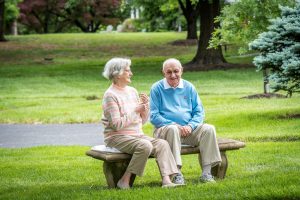 Location, location, location 
Just like with any move, the "where" element is usually the most important. When considering the location of a senior living community, you'll have to consider how it fits into your desired lifestyle. Do you want to be close to the city, or perhaps in the city? Do you want to enjoy retirement in the countryside? How similar to (or different from) your current neighborhood do you want your new surroundings to be?
Pickersgill Retirement Community, for example, is in a beautiful location. Our campus sits on 16 acres situated just outside Towson, Maryland, a charming suburb of Baltimore. Our location makes it easy to visit nearby cities (Baltimore and Washington, D.C.), and just as easy to get away to the quieter settings of central and western Maryland and central Pennsylvania.
Getting there
Just because you move out of your house doesn't mean you will stop moving. When considering the senior living options you've researched, be sure to ask about transportation options available. Are there regular, scheduled trips to local places, such as grocery stores, malls or parks? Is on-demand transportation available if needed? Will you be permitted to bring your vehicle to campus?
Pickersgill ensures that residents can continue to thrive in retirement by keeping them connected via the transportation options available. In conjunction with scheduled transportation, we offer transportation to local doctors and to Baltimore-area transit hubs. Furthermore, independent living residents can have their vehicles on campus, allowing for even more independence.
Consider the care
55+ community. Continuing Care Retirement Community (CCRC). Life Plan Community. Life Care. What do they mean, and which one is best for you? When deciding on a senior living community, you should be cognizant that so many senior living options offer so many different levels of care. Even if you are completely independent right now, you may prefer to have the peace of mind knowing that your new home will have the appropriate care for whatever your future needs may be.
Whether it's vibrant independent living, just-right assisted living or attentive skilled nursing, Pickersgill offers the full spectrum of care on-site. No matter your needs, our community remains affordable as the Baltimore area's only continuing care rental retirement community, where you'll pay no entrance fee.
If you've started your search for senior living options and Pickersgill sparked an interest, we invite you to download our info kit for all the details. Beyond that, we would be happy to host you for a visit of our welcoming community! Simply click here to get in touch, or call 410-825-7423.