The Annual Spring Fashion Show is a long standing tradition at Pickersgill Retirement Community.  Residents look forward to the occasion not only because its a great opportunity to see the new spring looks but also because its a special treat to see their close friends and neighbors stroll down the runway as models.
The collection of colorful, warm-weather clothes on display was styled by TaylorMarie's Apparel. A pop-up store with fabulous designer brands- Alfred Dunner, Ruby Road, Erin London, Tribal, Southern Lady, Karen Kane and Foxcroft to name a few- with a complete range of sizes for every woman.  In addition to clothing, an impressive display of costume jewelry and scarves were also available for shoppers to peruse. Everyone found something to tickle their fancy!
"It's like a shopping spree at a boutique right here at Pickersgill!"
Each of the models chose their outfits from 20 racks of fashion-forward clothing that ranged in style from sporty to dressy.  The designer ensembles welcomed the colors of the season; sunny yellow, soothing blue, bright pink and subtle peach, in addition to graphic black and crisp white. A variety beautiful patterns and luxurious fabrics evoked an enthusiastic response from the crowd. But, it was one particular model that garnered the most attention and had heads turning; Pickersgill's beloved physical therapy dog, Walt,  strutted the runway wearing an elegant scarf.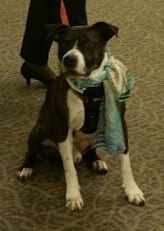 The models glided down the runway, smiling at their friends and neighbors, responding to the cheering sections along their route, and obviously enjoying themselves as much as their audience. Maryann Priddy, owner/manager of TaylorMarie's, described all the models and their outfits as they cruised the runway.
Our models were: residents – Jane, Bobby, Sally, Nancy, Elinore, Mary, Vinny, Mitch, Pat and Marty: staff associates – Karen, Bridget and of course Walt.  Take a look at the slide show:
[metaslider id=2823]