In 1954, "I Love Lucy" was the top-ranking TV show, Marilyn Monroe married Joe DiMaggio, Eisenhower was president, and the Orioles debuted in Baltimore. For Olga Wagner, 96, a resident at Pickersgill Retirement Community in Towson, Maryland, it was a start of a lifelong love affair with America's Pastime.
Though Olga grew up in New Jersey, she moved to Baltimore when she was 20, and Maryland has become her home. The Orioles have been her favorite team since the team came to Baltimore in 1954; she cheers them on through every game.

Her love of the Orioles began with her children. Her daughters were both members of the Junior Orioles Dugout Club and loved watching baseball. The family lived only five minutes away from Memorial Stadium (the Orioles home field until 1991) and regularly watched games there.
Having been a fan since the beginning, she has seen heart-wrenching defeats and lived the pure joy that floods through a city when the home town team wins the World Series—something every Orioles fan under the age of 34 has yet to experience. Understandably so, Olga's favorite Orioles memory is when the O's defeated Pete Rose and the Philadelphia Phillies to claim the World Series Championship in 1983.
Like many Baltimore Orioles fans, Wagner's favorite Orioles player is Cal Ripken Jr., and her favorite moment in a game happened on September 6, 1995, when Cal Ripken Jr. started in his 2,131st consecutive game, breaking Lou Gehrig's "unbreakable" 2,130 consecutive game record.
Though Wagner has not attended an Orioles game in several years, she still watches every game she can on television—often staying up late to do so. Olga collects Orioles pennants and often wears her Orioles shirts to show her team support.
Here, you can see the passion Olga Wagner has for her favorite team: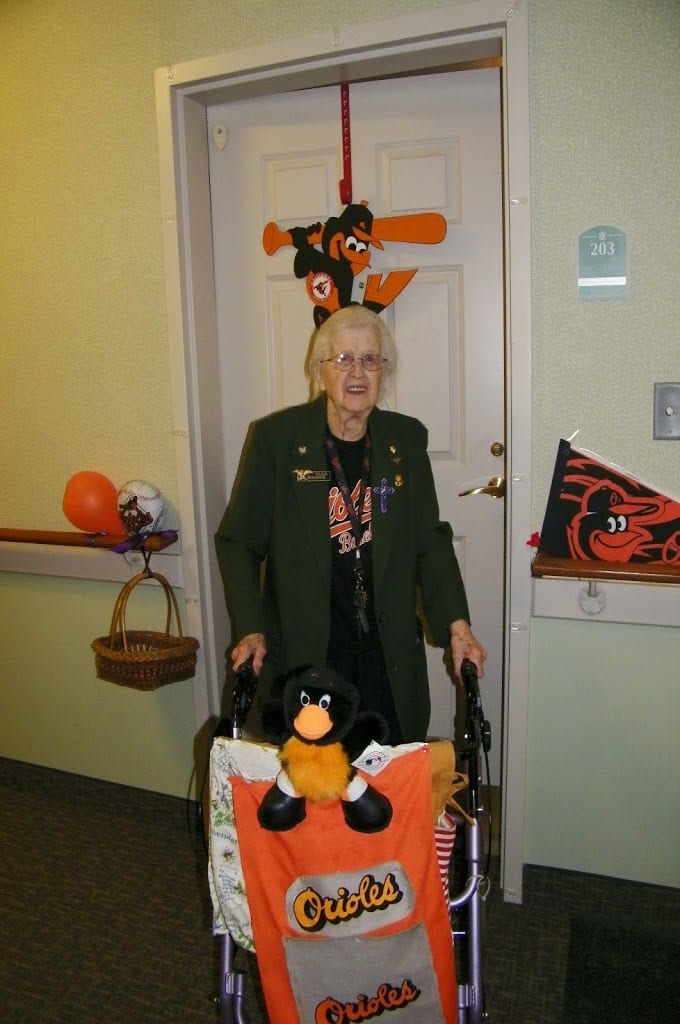 Olga Wagner sporting her Orioles gear