Independent Living • Independent Living Plus • Assisted Living • Skilled Nursing Care • Short-Term Rehabilitation

Request your free assisted living guide
Fields marked with an * are required.
Find out where to start and what to look for
Your Guide to Choosing an Assisted Living Community
Download this helpful guide to choosing the right assisted living community for your loved one. It's a strong starting point to help everyone make the best decision together.
No matter the reason, you've realized that it's no longer ideal for your loved one to continue living in their current home. Perhaps the housework has become too much, or cooking healthy meals is no longer possible. So, what's the best option to help them continue enjoying their life and to stay active and engaged?
In your FREE guide, you'll find insights into important questions like:
When might it be time to consider a move?
What exactly is assisted living?
Are there any options with assisted living?
Where do I start when it comes to choosing a community?
How do I choose which communities to visit?
What should I look for when I visit a community?
Complete the short form on this page, or simply call
410-842-0421

to receive your assisted living guide!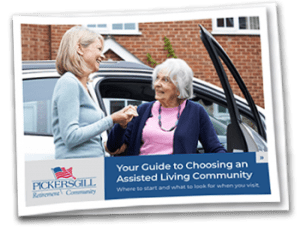 Pickersgill Retirement Community • 615 Chestnut Avenue • Towson, MD 21204 • 410-842-0421