Independent Living • Independent Living Plus • Assisted Living • Skilled Nursing Care • Short-Term Rehabilitation

Request your free guide, "Is it time for assisted living for my loved one?"
Fields marked with an * are required.
Ten signs it may be time for assisted living and how to handle the conversation.
Request this helpful guide, "Is it time for assisted living for my loved one?" to help you determine when an assisted living community may be the right choice.
If you are caring for a parent or loved one, you know the difficulties that come along with it–including making the determination about when is the right time for assisted living. That's why we're offering you this free guide to help you make the best possible decision for your loved one.
In this informative guide, we'll walk you through:
Physical, emotional and social benefits of assisted living
Signs to look for in your loved one that may indicate a need for extra help
The costs and implications of caregiver burnout
Ways to prepare for–and how to navigate– the difficult conversations ahead
Assisted Living at Pickersgill
At Pickersgill, each assisted living resident enjoys an independent lifestyle, a comfortable, private room, and an active, engaging community.
Your loved one will have access to three chef-prepared meals each day, as well as a range of services and assistance, including housekeeping, medication review, community activities, social events, and much more.
Complete the short form to receive your free assisted living guide.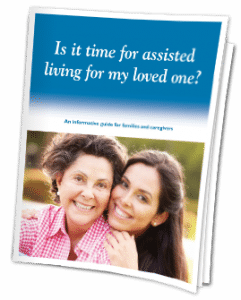 Pickersgill Retirement Community • 615 Chestnut Avenue • Towson, MD 21204 • 410-842-0421